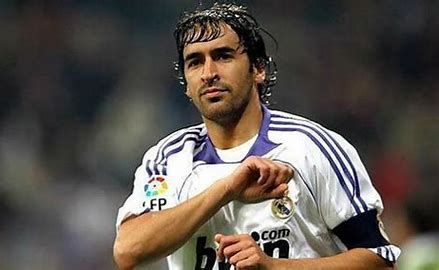 Legendary Real Madrid striker Raul scored over 400 goals in an incredible career for club and country
With the Champions League hosting some of the biggest clubs and names in football since 1992, records are being broken every year.
The pinnacle of club football, dominating on Europe's biggest stage is a sure-fire way to etch yourself into footballing history.
LiveScore look at the competition's all-time leading goalscorers to see which star has shone the brightest.
5. Raul (71 goals)
The Real Madrid and Spain legend sat comfortably at the top of the scorers' table with 71 goals when he retired.
But in recent years the Spaniard has been knocked down to fifth on the list, most recently by Frenchman and fellow Los Blancos star Karim Benzema.
Raul had a highly-decorated career, winning the Champions League three times with his hometown club and being named the illustrious competition's top scorer twice.
4. Karim Benzema (76 goals)
Karim Benzema has taken his Champions League goals tally to 76 to become the fourth highest scorer in Europe's top club football competition.
Now 34, the Frenchman scored for Lyon on his tournament debut when he was just 17 years old.
His goals have helped Real be crowned European champions four times but, with three prolific marksmen who are yet to hang up their boots ahead of him, Benzema may not retire in the top three.
3. Robert Lewandowski (82 goals)
Bayern Munich great Robert Lewandowski reached the 80-goal mark in record time after taking just 100 games — two fewer than the next man on this list.
The Pole's 15 goals in the 2019-2020 edition saw him take the Golden Boot and lead his side to the title.
Lewandowski is showing no signs of slowing down and will continue to trouble Bundesliga and Champions League records for years to come.
2. Lionel Messi (125 goals)
Argentine maestro Lionel Messi has graced the Champions League 154 times since 2005.
Spending the majority of his career playing for his childhood team Barcelona, he scored 120 times and lifted the famous trophy four times.
Messi, 34, has netted five goals in as many European games since joining Paris Saint-Germain and will look to earn a fifth crown in his new surroundings.
1. Cristiano Ronaldo (140 goals)
Cristiano Ronaldo is an undisputed goalscoring machine.
The Portuguese international has netted 140 times for three clubs, with the majority coming during his time at Real.
Ronaldo has appeared in 181 games in the competition since debuting for Manchester United in 2003.
With four Champions League titles under his belt from his time Madrid and another from the Red Devils, the striker is one of the most decorated players ever.
Ex-Juventus star Ronaldo, 36, also became the first-ever player to score in two finals for two different winning teams — bagging the opener for United in 2008 and a 120th-minute penalty for Real in 2014.